What a Podcast offers for the Narrative of Statelessness 
written by @Thex , Statefree Community Author |  Reading time: 5min.
For stateless people, feeling safe, equipped and empowered to talk about their own story isn't something that goes without saying. Statelessness isn't talked about very often in our society, and even when it does come up, it seems like only a select few have control over the narrative and often present statelessness in one-dimensional manners. Community-centered visibility is rare, leaving out important aspects and diversity within the lives of stateless individuals.
Those thoughts, coupled with the natural self-protective reluctance when having to talk about something so personal and sensitive without a final say, created our wish to find a more understanding and self-led way of exchange. Through the Statefree Community, it also became clear that visibility and diverse representation isn't just a request of a few, but a strong wish for a lot of stateless people.
Together we asked ourselves: How can we paint a more holistic and authentic picture of our community and the stories within it, highlighting the elements that matter most to us as stateless people and share our perspectives and stories without fear of external edits?
And thus, the idea of "The Statefree Pod" was born. 
As a participatory storytelling project, this podcast is filling the gap we experienced with other media forms; not out of their bad intention, but just as their existence within a certain system and work practice. "The Statefree Pod" gave us the freedom we needed, the self-organization we wanted, and the empowerment we aimed to create when our stories are being told. With it, we can focus on a set of questions that is usually sidelined:
How do we want to be introduced? What is important to us in the conversation and during the recording? What things are important to us and our stories, what do we definitely want to share? What are our boundaries?
We can make sure that everybody feels safe, heard and respected with their experience of statelessness, and show the diversity of voices and experiences that our community offers. The Statefree Pod is meant to be… 
"...a podcast created by and for stateless people, and for every person that wants to know more about it and our community. It is one step on our journey to create community, visibility and equal rights for stateless people."
The first episode will be released on the 12th of March on Spotify and Apple Podcast. We will release a new episode every two weeks. Stay tuned🖤
How did we do it?
Some time ago, a crew of Statefree Community members met in a Community Lab and created something new…
Not to be too cheesy, but the gathering started on a Friday that really took a fortunate turn: After receiving a last-minute cancellation of the podcast studio we booked for the next day, two of our Statefree team members walked past Brafe Space by chance. Without knowing they would have a recording table at this place, they got into a talk and found themselves some minutes later with a new recording place at hand. To cut it short: Fortune sided with us, and we got to go on with our plans.
Saturday was all about the podcast's basis and recordings. We met in the morning, took time to check in with each other and get to know everyone. We prepared the foundations of the podcast, so everyone got to reflect on their own wishes and define their boundaries. We wanted to make sure that this project creates a space to own our own stories and the way they are told.
After sharing our thoughts and conversations about that, we had a delicious lunch at a Sudanese restaurant and some excitement in the air for the upcoming hours. The rest of the day was spent with the actual podcast recording; some in German, some in English and one (so far) in Spanish. In the meantime, the other members took pictures and recorded videos. It was a time full of laughing and fun, and it ended with an amazing dinner at an Asian fusion restaurant.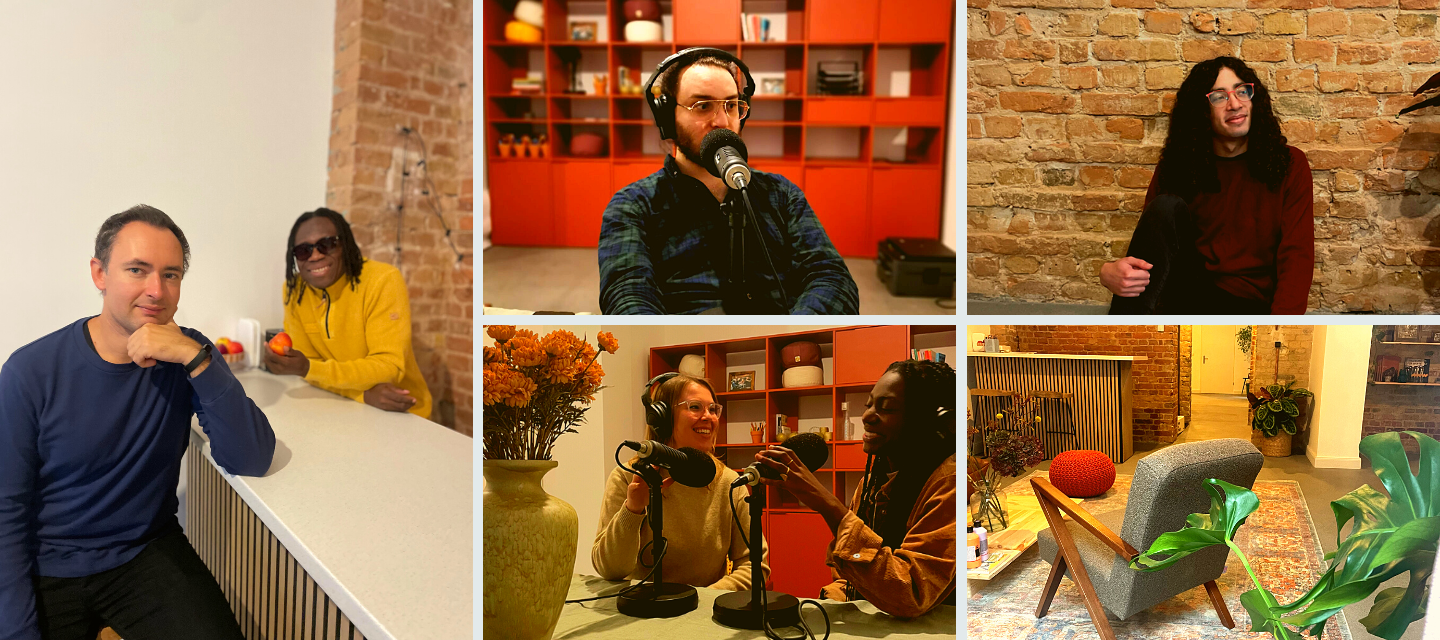 On Sunday, we made space to reflect on the last day, share feedback about the process and settle some podcast details like coming up with a podcast title. Before everything found its end in warm Goodbye and See-you-soons, we shared what Statefree is doing at the moment and discussed possibilities to be involved in other Statefree projects.
With all that, all that energy and passion and openness and personality, "The Statefree Pod - Making our Voices heard" was created…
We are still amazed by what we created on this weekend and every person that contributed to it and built a stronger feeling of community; we really couldn't be more thankful, prouder and happier to have you here and on board!
THANK YOU 🖤
Special thanks to all the Statefree Community members as well as Apatride Network members who invested their time to participate and contribute their voices, stories, perspectives and energy to the project - thank you for your trust and for being part of this journey; the creation of this insightful and thoughtful podcast speaks for itself and earns respect for every single minute. <3 
Thinking about all the little steps in the podcast creation, a big thank you also goes to Dara Shikoh for the post editing, to Blin for the podcast's amazing background tunes and to brafe.space for the space and equipment to do the recording. Without all that, this idea of showing experiences and diversity of statelessness would not have turned out the way it did - thank you for your support and participation!